LifeFAX FoIP Applications

As more and more enterprises consolidate voice, video, and data applica­tion on a single network infrastructure, the benefits of Fax over IP (FoIP) are becoming increasingly persuasive. Organizations that have transitioned to Voice over IP (VoIP) are becoming increasingly aware that routing faxes over their IP network results in costs savings and productivity benefits.
myFAX network fax server T.38 Real-time Fax over IP (FoIP) solution allows you to route your faxes over an IP network in real-time leveraging Voice over IP (VoIP) deployment for immediate cost savings and productivity gains.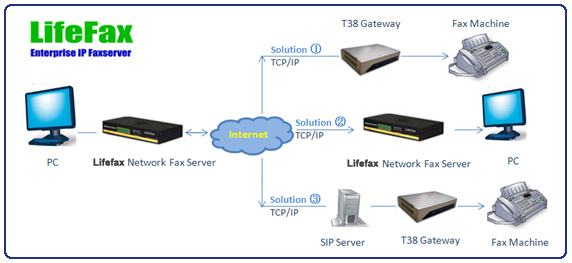 FoIP (Fax over Internet Protocol) is a method of sending faxes over the Internet or your wide area network. FoIP changes the transmission method of faxing in much the same way that VoIP (Voice over Internet Protocol) changes the transmission method of a phone call.
In both FoIP and VoIP, data travels most of the distance between sending and receiving devices on a packet-switched network, often avoiding the long-distance phone lines of the telephone network. This reduces the cost of transmission and can be a more efficient setup for a business that already has access to Internet bandwidth or a wide area network.
It is a common misconception that all of the fax transmission from end to end is conducted over IP. Unless you are sending messages within the organisation this will not generally be the case; you will need to switch out through your PSTN gateways to deliver to the destination fax machine
LifeFAX FoIP Benefits
Easy to configure and monitor via a secure web based administration interface
Leveraging the backbone of the Internet for fax communications
Consolidating voice, data and fax communications under one system
Cost savings via reduced long distance and international toll charges, analog fax ports and PBX related costs
Lower PBX maintenance fees, as maintenance costs of PBX station ports are much higher than those of routers.
Lower operating costs resulting from combining all communi¬cations modes, including fax, into a single network topology
Enhanced disaster preparedness as VoIP network architecture enables the location of the server to be independent of the user, allowing for consolidation of fax servers down to one or two strategically located data centers
Least Cost Routing, whereby outgoing fax calls can be routed in the least costly fashion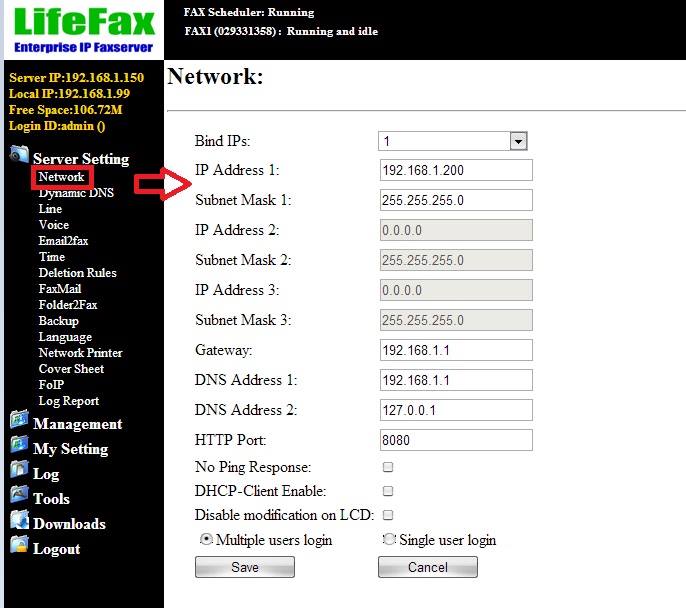 Network :
Default IP ของ Life Fax enterprise IP Faxserver จะเป็น 192.168.1.200 เพราะฉนั้นถ้า Network ของคุณไม่ได้เป็นวงเดียวกัน (192.168.1.X) แล้วล่ะก็ คุณต้องเอาสายแลนมาต่อตรงๆกับตัวแฟกซ์เพื่อตั้งค่าให้ตรงกับ วงแลนของคุณเสียก่อนครับ ถึงจะเข้าไปตั้งค่าส่วนอื่นๆได้
โดยมาที่ เมนู Server Setting >>>> Network
จากนั้นคุณก็ใส่ค่าตั้งตามที่คุณต้องการเลยครับ
- HTTP Port: Default จะเป็น 80 คุณสามารถตั้งใหม่เองได...้ ถ้าหากพอร์ต80ในวงแลนของคุณถูกใช้งานแล้ว
- No Ping Response: ปิดการปิงเจอ คือเครื่องpc หรือnotebook จะไม่สามารถปิงเจอ
- DHCP-Client Enable: เปิดใช้งาน DHCP
- Disable modification on LCD: ปิดการใช้งานหน้าจดแดสงผลที่ตัวแฟกซ์เซิร์ฟเวอร์
- Multiple users login: อนุญาตให้userสามารถLoginเข้าใช้งานพร้อมๆกันหลายๆคนได้หรือไม่
***เมื่อตั้งค่าเป็นที่เรียบร้อยแล้ว Save และReboot หนึ่งครั้ง โดยไปที่ Tool>> Reboot